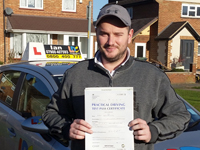 Anton (30) Abbots Langley
Passed first time. Ian is a great Instructor. Very professional but friendly and easy to deal with. Would highly recommend!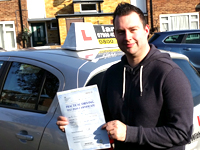 David (31) Bushey
Thanks to Ian I managed to pass my driving test first time. I found all his lessons enjoyable, structured and helpful. His knowledge and understanding allowed me to gain confidence and improve quickly. Ian is patient, accommodating in terms of scheduling lessons and provides a calm, friendly and experienced presence beside you. Thanks again Ian for all your time and support.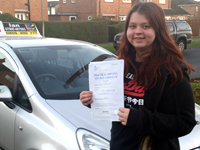 Charlotte (18) St Albans
I really enjoyed learning to drive with Ian, he went through every detail in a way which was easily understood, and therefore making the lessons safe and fun to complete. He makes sure that if you are struggling with certain things, he goes through it in different ways and covers it until you are competent with that manoeuvre. Ian is a great instructor and I will wholeheartedly recommend him to friends and family.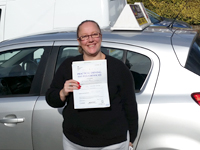 Felicity (32) Abbots Langley
Ian is a fantastic instructor. Very understanding and always puts you at ease. Makes you feel confident when driving, and I would recommend him to anyone wanting to learn to drive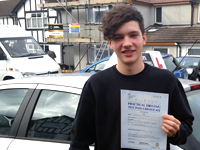 Joshua (18) Bushey
Ian my instructor from the start made me feel relaxed about learning. He was very thorough and took his time to explain everything in detail to me. He was very patience with me even when I did things wrong and had a calming attitude. Thank you Ian.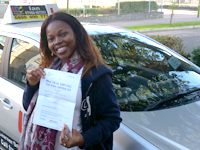 Egbe (27) - Bushey
After two failed driving tests, my confidence for driving was completely gone until I met Ian at LDC.
Ian is an excellent driving instructor. He is very informative, patient and easy to get along with. With Ian's approach, my driving skills progressed very quickly and I was able to gain the confidence I needed to pass my test at third attempt.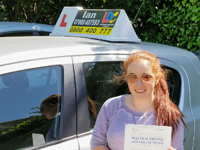 Olivia (17) - Radlett
Ian was a brilliant driving instructor. He kept calm and patient at all times allowing me to become a confident driver and enjoy the experience. I passed first time thanks to the great tuition and have already recommended him to many friends. Thank you!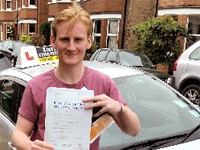 Sam (19) - St Albans
I found Ian's lessons informative, safe and enjoyable and as a result felt well prepared for both tests. The information and tips given are hugely beneficial whilst driving.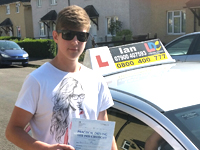 James (17) - Rickmansworth
Thanks Ian, your driving lessons were brilliant and thanks to you I passed my test first time. I'd recommend you to my friends who want to learn to drive.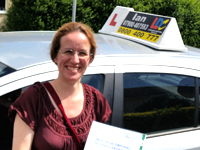 Helen (35) - Rickmansworth
Ian is an excellent instructor, friendly but professional, and calm at all times, which is exactly what you need when you're nervous. I came to him when I was nearly ready to take my test, as my previous instructor was ill. He gave me lots of useful advice to smooth out problems and gave me the final push I needed to pass. I would recommend him to anyone. Thank you Ian!
Kenz (23) - Rickmansworth
Ian is an excellent driving instructor. His patience and devoted attention enabled me to improve my driving skills and become a safe and confident driver. Thank you Ian for everything!!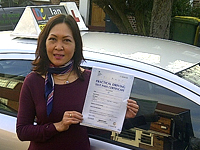 Waraporn (50) - Stanmore
I started as a nervous learner, but today I passed my test with confidence, Ian Thank you so much for your patience, hard work, calmness and other qualities you have which helped me so much in getting though the test with a pass. I had a fantastic time and enjoyable learning experience with you, and will have no hesitation in recommending you to other would be drivers, Thank you once again for your kindness and efficiency.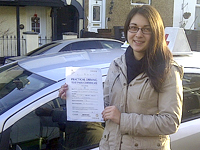 Kira (29) - Watford
I would wholeheartedly recommend Ian to anyone. I knew that there was a standard lesson plan and structure that I would be following but his individual attention made it feel like a lesson plan tailored just for me. Plus he was patient enough to answer every question I had.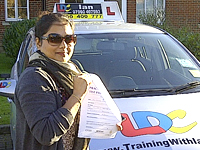 Supriya (28) - Borehamwood
I have been with a few instructors prior to Ian. He is very professional in his approach. While other instructors were just in it as a profession, Ian is in it for passion. He knows what you are good at and what needs to be improved and all his lessons are customised to your needs. He has not only helped me pass my driving test, but helped me be a safe and a better driver. Thank you Ian for all the support and help.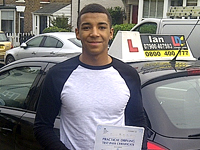 Thomas (18) - Bushey
Ian helped me progress very quickly, I was very satisfied with the way he taught, and I felt like I was improving each lesson.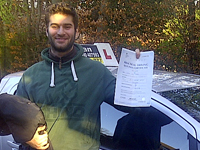 Kamel (21) - Rickmansworth
I passed both the theory and practical test's at the first attempt. The practical part I did with only 25 hours of lessons beforehand.. I've never driven before and I owe my success to Ian's fun method of teaching and his high standards. I almost passed the practical test without any errors thanks to Ian, who during our lessons continuously told me how I could improve and what exactly to expect in the actual test - and he was spot on.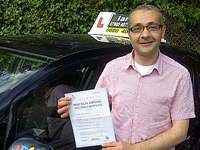 Bassam (34) - Mill Hill
Excellent instructor, patient, very kind and reliable. Ian really helped to pick up on my weaknesses and how to overcome them in few lessons, and then he encouraged me to drive with more confidence. I would recommend him to anyone learning to drive.
Thank you Ian for everything.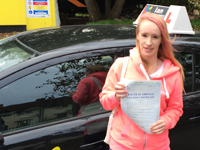 Bonnie (22) - London Colney
Just like to say thank you so much for your help. You've been a great instructor and taught me well. Very easy to get along with, which made lessons comfortable, also had a great technique and method of teaching, making it easier to learn.
I would certainly recommend you to my friends, colleagues and family :) Thank you again.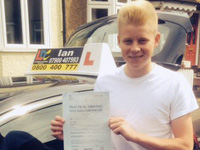 Tommy (17) - Bushey
You were easy to talk to, calm, understanding, patient, relaxed and all round a great teacher. Really enjoyed it.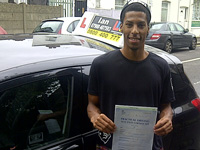 Jordan (19) - Watford
The training was great, really informative and helped me learn the basics step by step.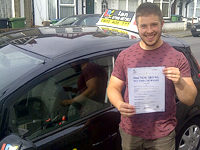 Ethan (23) - Watford
My time learning with you was well spent, a consumate and encouraging experience with somebody who seems to truly care about his students wellbeing. Overall a brilliant experience! Thanks again Ian for all your hard work and support.....all the best.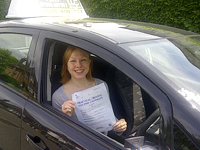 Debra (49) - Rickmansworth
From the moment I called LDC they were so helpful and accommodating - fitting lessons in with my days off work. My driving instructor Ian was literally the perfect combination of friendly and professional. I passed first time thanks to him. I'm genuinely grateful.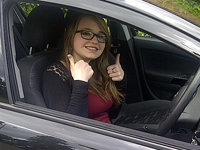 Jess (17) - St Albans
Lessons were great ,relaxed and informative. I learnt everything really quickly and easily and when it came to test time, a very supportive and understanding instructor.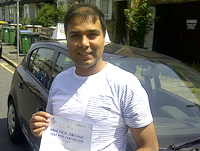 Imran (39) - Watford
I am very happy with Ian the LDC Driving instructor who helped me to pass my driving test. Ian was very helpful throughout the three month training. Despite the fact I had already done quite a lot of private practice he concentrated on the skills that needed improvement, furthermore he also highlighted the strengths I had in place and gave me constructive feedback and not just pointing out my mistakes. I will get his services for driving instruction for my other family members as well.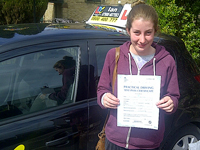 Kelly (20) - Berkhamsted
Ian was very thorough and to the point with his instruction making sure everything was to the correct standard.Enjoyable and lovely person to learn with and also easy to understand. Cheers Kelly.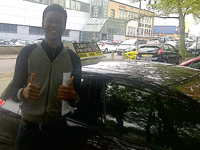 Awah (20) - Moor Park
I found you to be very calm, encouraging and most importantly good at what you do and I think that comes with a lot of experience. My lesson were equally very flexible to fit my schedule. I will definitely recommend somebody as a way of proving I enjoyed my training. Thanks Ian.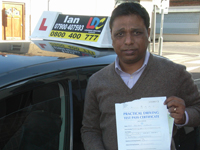 Aslam (45) - Watford
Today I have passed my driving test. My instructor Ian from LDC has been excellent in supporting and enhancing my driving skills throughout the training. Learning to drive with Ian and LDC was a great experience.I am so happy as I passed my driving test so quickly.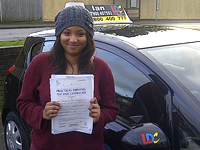 Karisa (24) - Mill Hill
A big thank you to Ian for getting me through my driving test first time round. Was so nervous but he calmed me down and taught me everything I needed to know for my test. Would recommend him to anyone looking for a reliable, professional and caring instructor. Thanks again Ian.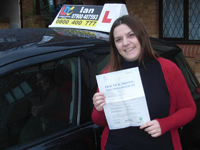 Melissa (29) - Abbots Langley
I chose LDC after I read the testimonials, they have a high pass rate and everyone seemed to give good feedback. I am happy I did, Ian was my instructor and he is an excellent teacher. I was nervous and scared to drive in the beginning and he showed me I had full control over the car and that there was nothing to worry about. He taught me some excellent techniques which made each manoeuvre very easy and I could perform them all perfectly thanks to his easy steps. I passed my test with 1 minor!! And my examiner even complimented my driving. I can strongly recommend LDC, and if you are so lucky to have Ian as your instructor you will be in good hands.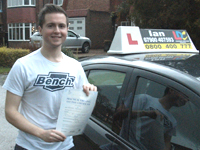 Chris (23) - Pinner
I found that Ian was very helpful in teaching me to drive, fitting lessons round a busy few months for me. I would highly recommend him to all looking for an enthusiastic and efficient driving instructor.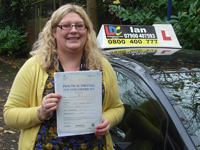 Jo (38) - Harrow
Ian has been a fantastic driving instructor. He has helped and supported me to at last pass my driving test after a 20 year gap. I found his patience and teaching style allowed me to feel confident on the roads and to really understand how to drive. I have enjoyed learning to drive with Ian and would highly recommend him.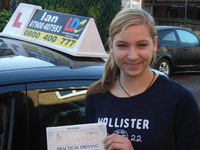 Katie (17) - St Albans
First Time Pass
I've had a fantastic time learning with LDC. Ian was great and really supportive and I truly enjoyed all my lessons. Thank You.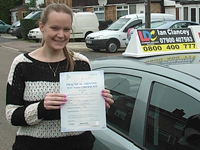 Rachel (29) - Watford
At the beginning I was apprehensive about taking driving lessons, especially after giving up ten years earlier. However, once I started my lessons any initial doubts soon subsided and along with Ian's instructions and patience, I became much more confident and really started to enjoy learning to drive.
From start to finish Ian has always been helpful, offering constructive advice along the way. Therefore I recommend anyone considering learning to drive to take lessons with Ian.
Thank you so much for getting me through the test, I really appreciate everything.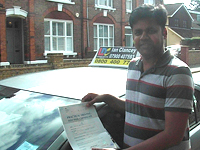 Sihari (29) - Watford
I have learnt very good driving skills with Ian. I really enjoyed my classes and am very much satisfied. I will be recommending that my wife learns to drive with Ian.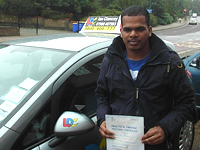 Jophy (21) - Kingsbury
Semi Intensive course.
I started with no driving experience and within a few lessons I felt confident thanks to Ian.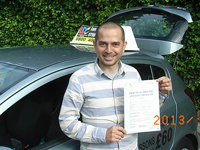 Amjad (40) - Kingsbury
Today was a great day for me as I passed driving test. All this could not have happened without the continuous support and effort in my training with Ian. I enjoyed my lessons with a brilliant instructor who always guided me to the right path to pass.
I appreciate you Ian and wish you all the success in the world and will recommend you to my friends.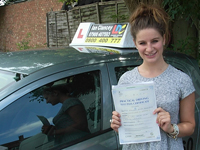 Melissa (21) - Bushey
I found Ian to be a calm, informative and knowledgeable instructor. He was great at polishing all the skills required to help me to drive safely. I have, and will recommend him to anyone looking to learn to drive. LDC are a fantastic company to go through and you will always get the support you need. Thank you Ian for helping me to pass first time.
Matthew Wilson (18)
Hello my name is Matt and I passed my driving test first time with Ian, he is a great instructor and helped me an extreme amount to get me through my test. He will be my first choice when making a recommendation to family and friends.